An interview series by IRM India Affiliate [www.theirmindia.org] that aims to understand the importance of risk management from the perspective of different individuals and businesses.
Answers as shared by the interviewees with IRM India Affiliate.
Siddhant Gulshan Chopra is a third generation entrepreneur of a successful family business and student at Northeastern University.
What's your background and how has the Covid-19 impacted you and your business/ education?
The dynamism in today's world is immense and I have been privileged to experience it. I belong to the Generation Z aka Gen-Z, the generation born in the digital age and our identities, attitudes and perspectives are uniquely integrated with technology to foster innovation and creativity. Being born into a family where entrepreneurial spirit and values flow in our blood, I have been capitalising on such spirit and values. I have been given the opportunity to test the waters globally by wearing multiple hats and taking on responsibilities from a young age. I am also currently a student at Northeastern University in Boston pursuing a degree in Finance and Entrepreneurship. Along with that, I also represent my family business as a speaker at leading Family Office and Investment conferences across the world discussing family business leadership, asset allocation and impact investing.
Earlier this year, I entered the world of Corporate America at Boston's $1.3 Trillion Investment Management Company called Wellington Management and started at their Equity Trading Desk. I had the opportunity to be exposed to such volatile markets and witness how down markets fared in the world from the standpoint of an institution. It was an awful sight to see how the markets globally collapsed and hit lower circuit limit atleast three times a week and brought the unstoppable global markets to a standstill. Behind the rising tensions was the spread of Covid-19.
It is 100% true that the Coronavirus or Covid-19 has changed the way the world functions, because I didn't see it impacting us at this level where I would have to pack up my bags, leave the USA and leave my job which I was so passionate about and return home.
Additionally, switching to online classes for continuing my college degree and redefine the meaning of college through a laptop screen and zoom meetings seemed odd at first, but this brings us closer to the concept of remote working, learning and working from home.
I belong to India, where business culture is poles apart as compared to the world. Our family business is diversified into Infrastructure and Financial Services, but infrastructure is the strongest pillar of our business. Infrastructure is shaping the life of the place for years to come. We are involved in building Metros, Expressways, Highways, Flyovers etc. We foster the growth of our economy and our nation, hence, with the spread of this pandemic, the growth has come to a halt. With work in progress in over 2 nations and 10 major states of our country, the business is the source of life for over 7,000 people who are employed at all project sites. As a result, remote working or work from home for people to be required on site was next to impossible.
As a Third Generation entrepreneur of a family run business, what's your view on risk and crisis management especially in a post-Covid world?
Firstly, I strongly believe that health and well-being is and should the first priority for everyone and we have also ensured the same in our business. This new environment, which is now termed as The New Normal, will have a huge effect on lifestyle, workplace regulations, customer spending, travel restrictions and uncertainty in financial markets globally.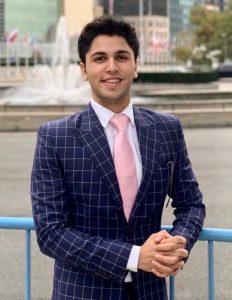 As the world gears up to beat the Covid-19, in the process, the lifestyle of people will be altered by a great extent. Public health standards would be drastically improved, and choices of people will change. The pandemic is new to this generation and nobody has witnessed something like this ever, hence this would prepare the world for the future and people would know how to deal with unusual circumstances like these hopefully. Additionally, the value of basic amenities like food, water, safe homes, health and internet will be appreciated.
I feel it is a huge privilege for those of us who complain about sitting home all day, and talk about the minor inconveniences this pandemic has caused us, like not having so much of a social life or just having to work from home. But the darker side of covid-19 is visible to mainly the underprivileged and the daily wage workers who often have to worry about how they will comfortably feed their family a basic meal on a daily basis. In a country where more than 1/5th of the population is reported to be below the poverty line, helping the poor and not so privileged, has been an important cause for me, and I have used all this extra time on my hand to do my bit as well urge those around me to help out any which way they can.
With this we do realise that how important healthcare is and having more hospitals and the infrastructure to support the citizens during these unusual times is fundamental. I see huge opportunities in the market especially in the turnaround phase. The government should come up with a stimulus plan to support NBFC's and Banks to revive the economy. The liquidity in the market has reduced by a huge margin and if this continues, the crisis will deepen. Hence to boost the economy, the employers have to be supported, who will be able to sustain cash outflows atleast in the form of salaries to save the firm's employees. The chain reaction at every level needs support of financing and the entire chain is dependent on the governments measures to support them.
The tech space shall see a boost as the world shifts to online learning and remote working, which will give stimulus to automation of processes which as a result will increase the exposure of the country to the digital world and lead to technological advancement.
More importantly, I believe low class housing as a sector would see huge growth as people who have been living in clusters would prefer having their own homes and not stay in shared accommodations and practice social distancing. We have been witnessing the automobile markets nearing recession, this could reverse as people would prefer having their own vehicles and ways of commuting to avoid public gatherings and being among people for too long as they would be afraid of the risk of the virus. The means of public transport will change, and capacity restrictions would be taken up seriously.
The fear is what will change the perspectives of people?
Due to the standstill in economic activities we will see a decline in consumer spending and prioritising of expenses, which as a result would affect everyone in the business cycle. A normal example would be, eating out at restaurants would decline because of namely safety issues, social distancing norms and saving their disposable incomes. Travelling globally would be made stricter with increased regulations in health standards being a key measure to enable entry and exit in different countries. When we look at commercial real estate spaces, corporations would have to increase workplace regulations in order to maintain the precautionary measures for the safety of their employees and stakeholders. This will help develop the platform and infrastructure to help employees to work from home comfortably without having to be at their desks at the work place. Having capacity reductions will reduce the space required in commercial complexes and which as a result will reduce consumption of resources.
Speaking from a family business' standpoint, the value and dependence on family members has increased and family starts valuing family members more. Family businesses are known for the values they instill and for taking them into consideration for all their business activities and decisions. Hence, understanding the meaning of risk and crisis after this pandemic has been redefined for us. I see India emerge stronger and more self-reliant post Covid. India as a country with its Make in India programme could be a hub for manufacturing and global giants would want to be in business with a country which could be trusted and has strong international relations. As a crisis like this will only help us be more cautious and be prepared for the future.
Can you share some examples of how you have been using risk management in your life and business and studies so that youth of your age can get some learnings
I believe, risk is a constituent that is present in every action and decision of our lives. At this moment, I am way too young to dive into depth about how much risk I have taken and how well it's been managed. Since a very young age, I was given the opportunity to follow my path without any hindrances.
At the age of 17, we took the risk, where I represented our family business at a global platform as a speaker, without having any experience of how the world of international business functioned. I was sent with a box of business cards to represent the business and speak about India and the business culture.
As we all know, there is a stereotype about India which prevails in the western world of being backward and untrustworthy, I saw this as my responsibility to try and alter the outlook of the world towards my nation using the story of a new India by its youth.
Having the entrepreneurial spirit in me, being a risk taker was always one of my qualities, as I thought it would widen my horizons and open up new avenues. Hence, I took the challenge of living alone in a foreign nation over the summer interning at Secondary Private Equity Fund. My experience gave me in depth understanding of qualitative and quantitative meaning of risk both in terms of work and how I could use it in my life in my formative years.
After being in the business of infrastructure and working in the capital markets, risk was primarily the first thing which used to strike our minds. The biggest question everyone in the world of finance asked was "What is the risk associated with this investment?" Answering that actually gave me an insight on risk and how to effectively manage it. Everyone in the world, tries to manage and mitigate risk but there is always something that no one expects, the occurrence of that event changes the outcome. This brings me closer to how the financial crisis happened in 2008, we didn't see it coming but no one ever thought that housing market would crash, hence it is the sentiment and trend in the market that drives majority of the decisions.
Our infrastructure company got listed at the Bombay Stock Exchange in 2008. In times when the financial world collapsed, we emerged, taking one of the biggest risks. Having a public issue roll out successfully, during a time of financial crisis was a risk, but was effectively managed because of the strong management, decision making capabilities from years of experience and bidding of contracts which the company would be able to sustain and more importantly not cross the limit to over expand operations which would backfire the entire business. Looking at how the situation is right now, after coming back from the USA, as a responsible citizen, I quarantined for 21 days in our family's second home because the safety and health of my family was most important.
As we all know, the virus started with just one person which has spread to the world now, if we combated risk in a systematic manner, by controlling it from the lowest level, we wouldn't have to see the world like this. Lastly, I would say planning is essential, but nature has different plans for the world, that is "Life". In reality we don't know how the situation might change, but we have to take risks to survive through crisis. The biggest risk we live on is for our own lives in these turbulent times, so we should all be responsible to save our lives, our nation and the world collectively and that's where a formal understanding of risk management becomes very essential.
The Institute of Risk Management, headquartered in the UK, is the world's leading professional body for enterprise risk management (ERM) qualifications driving excellence since 30+ years across 143 countries. IRM's Global Qualifications (Level 1 to Level 5) are now available in India through IRM India Affiliate.