Insurance claims risk management is a process that involves compensating for the loss of a policyholder which could be due to unforeseen situations, voluntary or involuntary breach of contract by the other party, or any other abrupt cause. The process resides at the very heart of what insurers do. It goes about figuring, monitoring, and resolving demands of the victim parties and is an aggregate of functions that are essential for assessing, determining, granting, reviewing, and finalizing a claim.
With the ever-increasing advancements and involvement/enrollment of people in signing up for claims, firms and related people are constantly trying to catch up with the technological pace and enhance the process of claims management in order to pay valid claims efficiently and swiftly.
Customer loyalty is a crucial aspect that ought to be taken care of. It can unanimously be agreed upon that in today's time, changing or cutting your alliance with a company is as easy as moving the flick of a hair! If the hopes and expectations of customers are met, nothing more ensures customer loyalty better. This is the reason why technology has been coming to play lately – to ensure a management system that is fast, reliable, and takes care of customers' needs.
How technology plays its part?
 To be speaking even more relevantly, COVID-19 has had an immensely subduing impact on multiple aspects of the business in the world of insurance. The rising number of claims and simultaneous cost falling on the companies has more or less mandated relying on technologies using next-generation methods like Cloud, Artificial Intelligence and Machine Learning, Big Data Analytics, Blockchain, IoT, Chatbot, etc. The unprecedented efflux in the claims also raised serious concerns regarding cybersecurity and fraud trends in banking.
It's almost certain that the involvement of technology in complex manual processes is bound to take a great deal of load off of the company's shoulders. Claims risk assessment involves so many processes starting from a mere reporting of the claims. It is only as we move ahead with the process that we realize the further steps or procedures that could unravel before the company, which by the way, differ from case to case!
Broadly, in the era of digital transformation, claim risk management has been serving the following benefits:
Lessening frauds – It is shocking to realize that every year an insane number of insurance frauds are recorded under different domains of insurance. For example, in motor insurance, many cases involve fake licenses, underwriting frauds, soft and hard frauds. Have a look at the following statistics:
Amount in bank fraud up to 159% to Rs 1.85 trillion in 2019-20: RBI Annual Report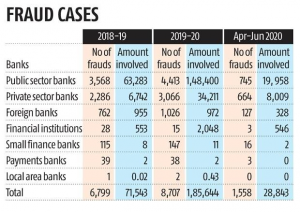 Source: Business Standard
With the use of technology, or to be specific, with the use of blockchain infrastructures and specialized software to analyze data, fraudulent insurance claims can be much more conveniently detected. The solutions offered by technical means of support not only help the company with the brunt of the unnecessary cost that they bore but also the customers on whom the liability of accident/unforeseen incident has fraudulently fallen.
Revamped efficacy – Claim risk management includes various processes on many levels, starting from mere reporting of the claim, proceeding to identify the lawful dynamics of the same, assessing whether the claim is valid, and then finally deciding what amount should be paid as compensation. Digital transformation resulting in revamped efficacy has multifold benefits, one of which is obviously- as aforesaid- ease in the management process. Beyond that, it also allows a company to render smoother and faster services to their customers, resulting in lesser complaints from them. Lesser complaints indicate higher customer satisfaction which would ultimately permit the company to have a good standing in a market that is perennially competitive.
Reduced Risks and Costs – Automated processes allow clients to minimize risks from false claims submissions to the staging of accidents and damages. With a convenient amalgamation and carrying out multiple processes entirely by digital means, the cost of staff has also evidently been reduced for companies.
Smoother communication – Apart from catching important information, the developing pervasiveness of cell phones gives new strategies to insurance firms to speak with and give instructions and administrations consistently at the entire hours to their clients, empowering more noteworthy commitment and brand devotion. With propels in mobile innovation, cell phones are assuming an inexorably significant part in organization buyer associations. For instance, insurers can send text suggestions to policyholders to refresh account details to guarantee persistent insurance support or push customized interchanges to clients when they are bound to require an arrangement, for example, when buying a new house or traveling.
Claims Management in a Competitive Market
 Every day, new technologies are being fed into the core system that is responsible for carrying out tasks of all. Amid this radical transformation, the functioning, products, and services of a company are bound to experience a change which in turn would impact their business model. In such a case, only a company that has the potential to match up with the pace of ever-ongoing technological advancements and make necessary shifts can sustain in the market.
However, all the transformations are futile if the customers are oblivious of all the things that would and can have access to with the existing and upcoming advancements in technology. The responsibility to educate, update and advise their customers with up-to-date provisions falls on the ones rendering these services. This would allow the customers to have in their reach all the methods that would make so many of their tasks so much easier. This would mean maximizing the customer satisfaction levels and a consequent stronger commitment from their end towards the company.
Nonetheless, it is important to realize that before diving into the technicalities of a management system that is constantly transforming, an establishment ought to have its basics and objectives clear at all stages. Moreover, nothing is more crucial for a tree to stick to its roots firmly irrespective of the heights it would and could reach.
If a company is taking care of customer satisfaction, efficiency in services, technical knowledge, commercial alliances, effective marketing, and a team that is risk-ready at all points, it is prepared to make its leap in the world of advancements.
https://www.financialexpress.com/money/how-is-digitization-altering-insurance-claim-settlement/2276752/
https://www.insuranceup.it/en/scenarios/claim-management-how-technology-turns-it-around/
https://www.tradefinanceglobal.com/risk-insurance/claim-management/
Blog Published By: Prerna Arora,Student Risk Committee Member