From customised board-level and employee-level training for risk champions and risk teams, IRM has been helping organisations around the world to develop a robust risk culture and a workforce equipped with the knowledge and tools to manage current and emerging risks.
Introduction
Effective risk management has never been more important than it is today. While IRM has been building a global community of like-minded risk professionals for thirty years, three recent developments have boosted the relevance of ERM.
Geopolitical change has disrupted settled ideas about government and governance in many countries. How leaders tackle growing political and demographic challenges will have a profound effect on both society and businesses.
The financial crisis, cybercrime and the coronavirus outbreak have reminded us how vulnerable to failure even the largest businesses can be. The overnight collapse of household names is a reality.
Technological development has reached a tipping point that is transforming the social fabric of our world and is impacting how businesses communicate, operate and thrive.
IRM offers a unique approach to help businesses meet these challenges.
History
Risk management has come into sharper focus among board directors, investors, regulators and the wider public in recent years. While this trend may have been spurred by the economic crisis of 2008, the fallout from high-profile cyber attacks, public service failures and environmental damage continue to cause huge financial and reputational harm.
In an unpredictable and dynamic business environment, managing risk effectively has become a key way of gaining a competitive advantage. This has compelled boards and risk managers to work much more closely in many organisations.
But the situation is still far from perfect. Too few businesses have an understanding of the extent and consequences of the risks they face. Others are too slow to act when trouble inevitably arises.
ERM is the most effective way for tackling these challenges. It enables businesses to understand their strategic and operational risks and develop the confidence to act quickly and decisively when the time comes.
ERM is crucial because it brings a holistic view of risk to the board in a timely and comprehensive manner. Instead of dealing with different types of risk – such as credit risk, health and safety and environmental pollution – as unconnected threats, ERM joins the dots.
With ERM, risk managers can better assess the impact of potentially interconnected risks, and boards can make decisions built on sound risk management.
ERM can help transform risk into opportunity.
Enhancing Risk Maturity
Risk management is continually adapting to the demands of its stakeholders and the risk landscape outside the business. Some risk functions are further along in the journey to optimise their organisation's risk management capability than others.
While a few risk departments have top-level executive backing and are well-resourced or risk-mature – that is not always the case.
Others may be start-up functions in developing countries or more established departments that are mistakenly viewed by management as mere compliance functions. However, no matter how far a risk function has travelled along the route to maturity, we can help refine an organisation's capability, with a tailored solution.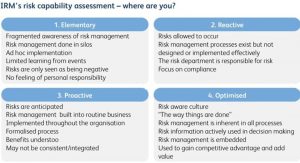 Partnering with IRM
We offer a combination of qualifications, ERM training for employees and community support to improve the technical skills and professional competence of individuals and teams. We also help leaders boost the credibility of their business functions by supporting ambitious plans to place risk management at the centre of decision-making.
By partnering with us, you can benefit from joining the global community of professionals and risk-intelligent organisations who are working together to help cost-effectively improve their risk maturity.
Training Programs
Our training courses are constantly developing to provide risk professionals with the knowledge to stay ahead in this fast-moving world. From the fundamentals of risk management to understanding risk culture and tackling cyber risk, IRM's training courses have it covered. Refer list of programmes here (hyperlink to corporate training > topics)
We also partner with organisations to help them develop bespoke, tailored or standard in-house training programmes. Working in consultation with the business, our approved trainers can provide a cost-effective and flexible way to keep staff up-to-date on current risk management practices.
We offer a series of highly-acclaimed training webinars for risk professionals. These can be watched free of charge anywhere in the world. Combined with our qualifications, our training provides risk managers with the practical tools and knowledge to get ahead.
Benefits And Options
From in-house and board-level training to company academies, we help organisations support a robust risk culture and develop a workforce equipped with the knowledge and tools to manage today's risks.
The Benefits Of In-House Training:
Consultation- We spend time with you to identify and assess your specific training requirements. This time with you ensures we develop a course that meets all of your objectives.
IRM Approved Trainers-

All our trainers are experts in their field, have a wealth of practical experience and are IRM members.

Cost-effective-

We often charge a lower delegate rate for virtual training when there is a sizeable number of nominations from your organisation.

Flexible-

We work with you to ensure courses are structured and delivered to meet your organisation's culture and work priorities.
Global Community
IRM is a professional community that provides a unique culture of learning and sharing risk professionals wherever they work in the world.
Qualifications and training are key parts of our offering, but we also help practitioners meet, share knowledge, and build success in managing risk effectively in their departments and across their organisations.
As a not-for-profit organisation, our members and volunteers play a crucial role in everything we do. For over 30 years, they have helped develop risk management – a task we carry forward with their help with, among other things, our Risk Agenda 2025 project on the future of the risk profession and our support for university research.
Case Study
IRM supporting Barclays' Risk Passport
Barclays has an organisational commitment to ensuring that any of their staff who work in risk have the opportunity to progress through their in-house Risk Passport learning programme, which is accredited by IRM.
Over 500 Barclays staff are also enrolled as members of the IRM, thereby benefitting from the expert content, global networking and learning opportunities that IRM membership offers.
At the launch event for the International Certificate in Financial Services Risk Management, Vicky Gray, Barclays' Head of Learning and Leadership Talent, emphasised the value of having qualified staff and confirmed that a significant number of staff would be progressing onto the Certificate.
Emma Maries, Vice President, of Barclays Risk Academy said: "Barclays is committed to supporting colleagues with their self-development as we know what a positive impact this has on broadening their risk knowledge and technical skills, both through our internal (IRM accredited) Risk Passport and then with further external study with the IRM.
The International Certificate in Financial Services Risk Management will enhance students' knowledge of all areas of risk management through theoretical and practical application during the course of their studies."
IRM Research & Thought Leadership
IRM and its members are at the forefront of promoting research and insight into topical issues in risk management, working with a variety of organisations around the world.
We welcome the involvement of our corporate customers with this work, which offers development opportunities for staff as well as the chance to be seen to influence the risk management profession. We are also involved with and consulted in respect of, global risk initiatives including the World Economic Forum Global Risk Report, ISO international and national standards committees and various policy consultations.
How To Get Your Organisation Risk-Ready? Embed Risk Intelligence Across The Value Chain Of Your Organisation
What is risk intelligence? Risk intelligence is an organisation's ability to embed risk thinking across all processes and functions thereby enabling all stakeholders to take better-informed decisions. Organisations with high-risk intelligence have a mature risk culture and tend to convert risks into opportunities with the help of qualified risk champions in every department.
We invite you to join our global community and get compliant with international standards/risk regulations by nominating your risk champions for IRM's Global Level 1 ERM Foundation Examination or Corporate Risk Management Courses. Our programmes empower risk champions with the theory and practice of enterprise risk management in-line with ISO 31000 standards, COSO framework and industry best applications including extended enterprise analysis with a combination of case studies, applied exercises and current affairs relevant for all sectors.